So just before the weekend after picking up a buddy we were gonna roll through a stop light when the gas pedal didn't turn the engine anymore, then a quick stall. Inspected the usuals but couldn't figure it out for myself, thankfully the family has a big enough trailer.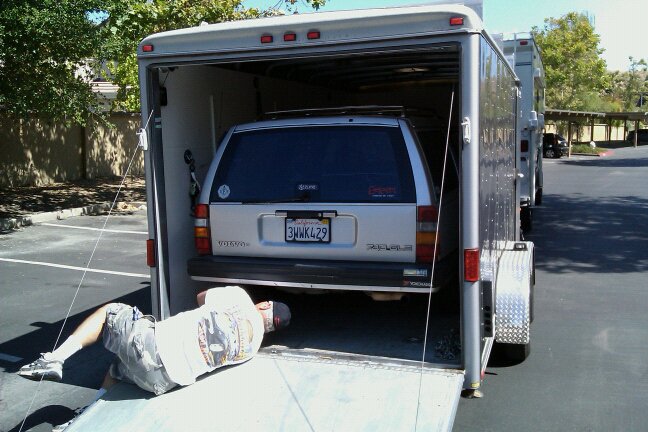 Brought it to the trusted mechanic and took care of the timing belt which had seized. I blame not having enough oil but I really can't brainstorm myself.
Also I found that the alternator was displaced an inch back in the mount. So getting new rubber grommets for that

_________________
Lanny
67 122s | 71 Pontiac Grand Prix | 72 Ford Maverick | 83 245Ti | 89 740GL | 90 Miata | 97 VW Passat
The Biggest Boss




Posts

: 141


Join date

: 2008-08-05


Age

: 36


Location

: Back under somebody's dashboard in Menlo Park



Well I don't think the belt broke since the starter motor was having a hard time turning the thing thing.
More importantly the car is running and might I say far more on cue. I'm curious now how that might have happened in the first place and also how this effects my firing for the cylinders. I've been having some days where the motor just doesn't want to use the juice I'm dumping till the car gets to a decent speed.
As I think about it I bet I can't even come close to the accuracy needed for this component.
This seems exciting as the rubber ones I've got are hard and brittle. Do they last longer than the car should ??
Big Lan wrote:Also, that trailer's awesome.
Yea that thing has towed my brother's 740'92 and mine many times. Sweet money saver in the long run as long as you have some place to hide it
Polyurethane lasts forever. tensioner pulleys give out before the belts most of the time. glad to hear shes on the road now.



Posts

: 30


Join date

: 2010-06-18


Location

: Sunnyvale





Similar topics
---
Permissions in this forum:
You
cannot
reply to topics in this forum